Welcome to the website of the Chief Information Officer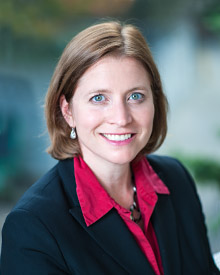 Jennifer Burns, Chief Information Officer of The University of British Columbia
UBC's core mission is to provide an exceptional research and learning environment. The University of British Columbia is consistently ranking among the 40 best globally, and now places among the top 20 public universities in the world. With this in mind, we, the IT @ UBC community recognize that technology is a key enabler of UBC's objectives, and a source of innovation and opportunity that will assist in propelling the institution forward. We are committed to ensuring that our efforts are adding value and are tightly aligned to the highest priorities of the University.
Over the years, UBC has worked to enable a more coordinated Information Technology landscape across the University and has developed a federated IT structure, with governance, policies and planning occurring centrally, but respecting the power of local delivery – either from UBC's enterprise IT department staff, or a Faculty's own resources. To ensure that IT initiatives across campus are aligned and coordinated, a system-wide model for IT governance has been developed and is now in use to engage institutional leaders and domain experts in guiding the development and support of critical components of our information technology.
Our mandate as the IT @ UBC community is to work together with vision and purpose to create new opportunities and advantages ensuring that our institution is able to achieve the most value from its investments in digital technologies.
Our community is filled with skilled and passionate staff and together we help our students, faculty and researchers achieve success in teaching and research excellence.
Jennifer