Integrated Renewal Program (IRP) | PriSM | Digital payments program | Enterprise Video Platform | Extended Learning Digital Transformation | Utility Management System Relacement
UBC has many substantive IT components underway at any given time. These projects can range from small projects impacting only a group of users to projects that have Faculty wide impacts as well as UBC-wide impacts and which involve many other groups on campus. The graph below lists the large, extra-large, and major IT capital projects that are transforming how UBC uses technology to enable teaching and research, and to leverage resources across campus to improve effectiveness. The graph below also reflects the project's status on UBC's capital IT projects development process.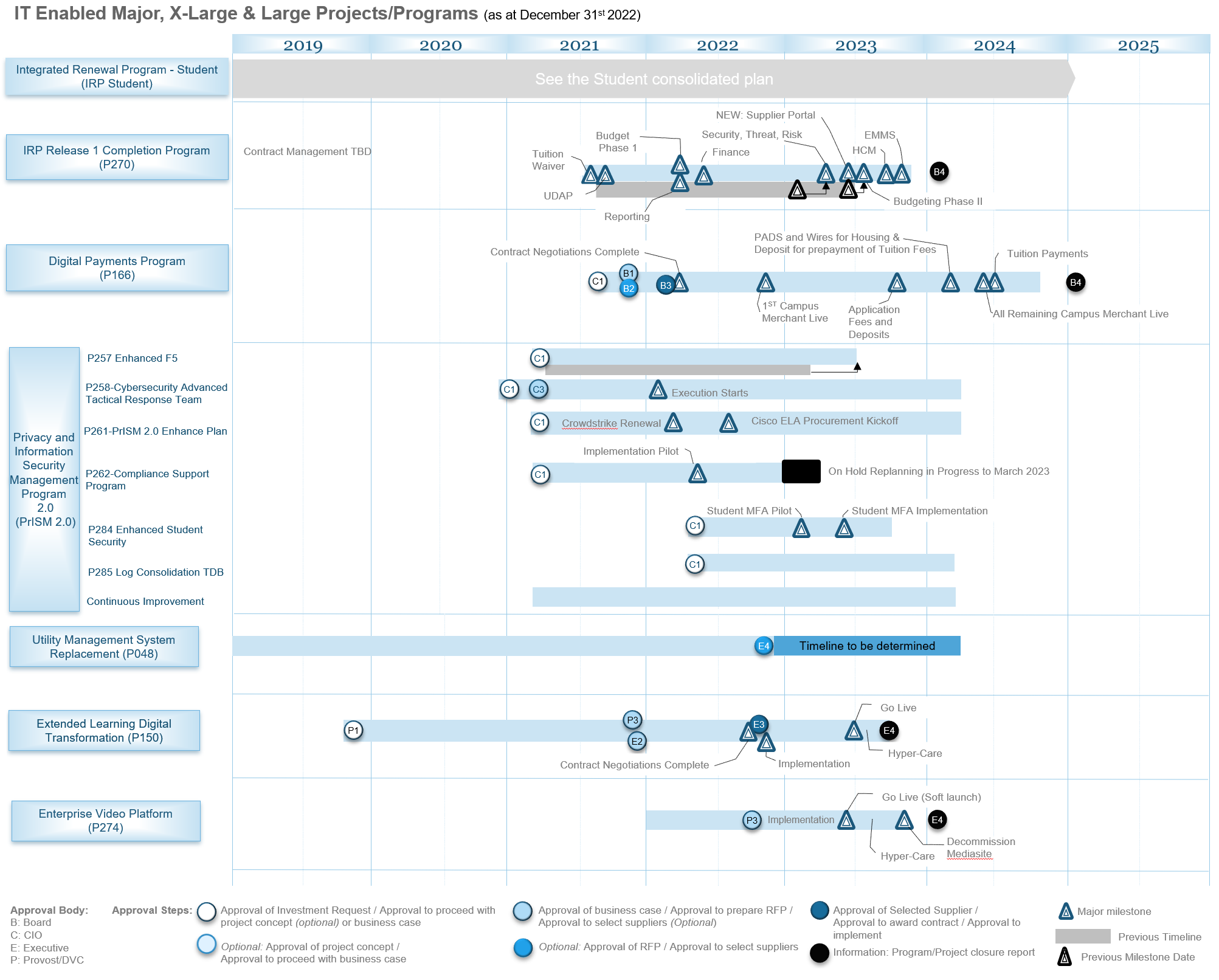 A list of projects can be found below:
Integrated Renwal program
UBC is embarking on a multi-year journey to transform our Finance, Human Resources and Student administrative processes and system environments, in support of UBC's new Strategic Plan, Shaping UBC's Next Century: Inspiring people, ideas and actions for a better world. The Integrated Renewal Program is a business process transformation and system implementation program that will leverage the industry-leading cloud enterprise solution Workday to replace our current core administrative systems with a new integrated, user friendly, mobile-enabled platform. To learn more, please visit the Integrated Renewal Program website.
Privacy & Information Security 2.0 (PRISM 2.0)
Privacy and Information Security Management 2.0 (PrISM 2.0) at UBC is a coordinated effort between Risk Management Services, the Office of the University Counsel, and the Office of the CIO. The mandate of PrISM is to enhance the privacy and security of information in electronic and hard-copy format through a series of campaigns related to technology, maintenance, data mapping and risk management, training, awareness, and communications.
Digital payments program
The Digital Payments Program (DPP) purpose is to select and implement a modern 3rd party eCommerce/digital payment solution that can modernize, automate and digitize payments for all campuses, faculties and departments. Furthermore, DPP will be the foundation for UBC's long-term vision to enable a unified payment platform which would incorporate the UBC Card and allow students to pay for a goods and services with a digital wallet regardless of where they are on campus and using whatever payment method they prefer (or charging their account to pay later). To learn more, please visit the Digital Payments Program website.
Enterprise Video Platform
The Enterprise Video Platform (EVP) provides the institution with expanded capability for online and hybrid teaching and learning, by providing a consistent, stable, accessible, and user-friendly platforms for media playback, media capture, media management, content distribution, and live capture/streaming of primarily academic sessions. Beyond the primary academic drivers, other use cases and consumers of enterprise video services include Ceremonies and Events, and Development and Alumni Engagement. The EVP project will ensure the continuity of the existing platforms while also engaging with the community to gather insights and requirements on video usage at UBC.
Extended Learning Digital Transformation
The Extended Learning Transformation project seeks to enhance the university's capabilities for delivering Career and Personal Education (CPE) learning courses and programs. Doing so will enable a more modern and efficient approach to CPE student outreach, enrollment, student services and education delivery. This project includes the implementation of a new CPE student system and website for Extended Learning and implementation of the new system at UBCO. The solution will be designed for scalability to support other UBC CPE providers in the future, and subsequent initiatives will add Customer Relationship Management (CRM) and Business Intelligence (BI) capabilities.
Utility Management System Relacement
The UMS 2.0 project will replace the thirty-year-old Utility Management System (UMS) currently used to bill Energy and Water Services (EWS) customers for their utility usage. The new system will reduce risks associated with using such an old system, and will modernize the meter-to-cash process. Key benefits include reducing errors through allowing meter readings to be uploaded automatically, adapting to new rate structures, and automating financial processes. An additional benefit will be to improve customer service through a customer portal for online payments and to view account history. In addition, key data on utility consumption and costs will be more widely available to UBC stakeholders including EWS Operations.
This page was last updated on Monday, March 13, 2023