Integrated Renewal Program (IRP) | PriSM | HPC Student Learning | Vancouver Scheduling | Core Research Facilities Management
UBC has many substantive IT components underway at any given time. These projects can range from small projects impacting only a group of users to projects that have Faculty wide impacts as well as UBC-wide impacts and which involve many other groups on campus. Below we list the major IT capital projects that are transforming how UBC uses technology to enable teaching and research, and to leverage resources across campus to improve effectiveness. The graph below also reflects the project's status on UBC's major capital IT projects development process.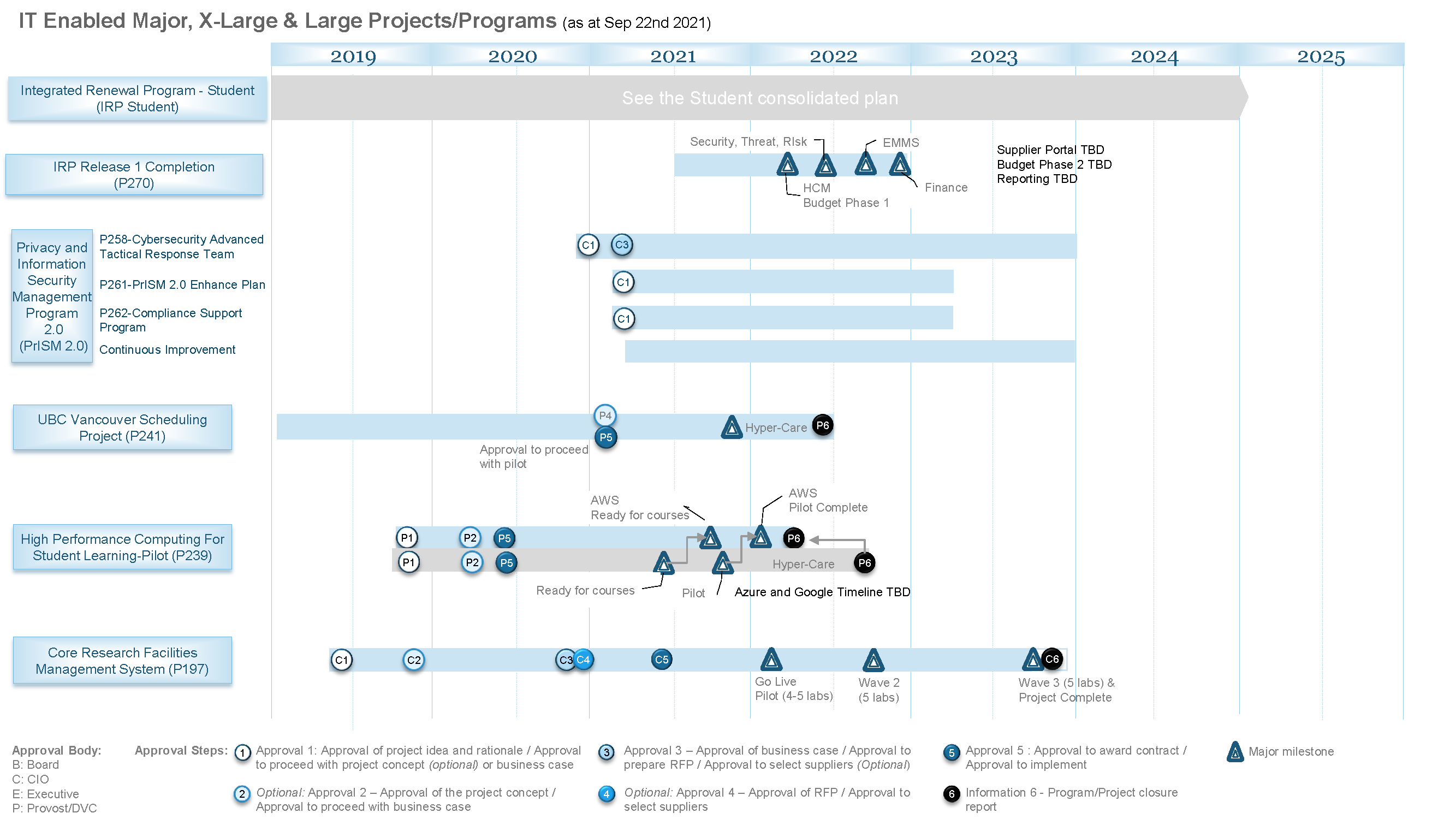 A list of projects can be found below:
Integrated Renewal program
UBC is embarking on a multi-year journey to transform our Finance, Human Resources and Student administrative processes and system environments, in support of UBC's new Strategic Plan, Shaping UBC's Next Century: Inspiring people, ideas and actions for a better world. The Integrated Renewal Program is a business process transformation and system implementation program that will leverage the industry-leading cloud enterprise solution Workday to replace our current core administrative systems with a new integrated, user friendly, mobile-enabled platform. To learn more, please visit the Integrated Renewal Program website.
Privacy & Information Security 2.0 (PRISM 2.0)
Privacy and Information Security Management 2.0 (PrISM 2.0) at UBC is a coordinated effort between Risk Management Services, the Office of the University Counsel, and the Office of the CIO. The mandate of PrISM is to enhance the privacy and security of information in electronic and hard-copy format through a series of campaigns related to technology, maintenance, data mapping and risk management, training, awareness, and communications.
High Performance Computing for Student learning-Pilot
UBC has identified a need for enterprise performance computing for student learning. As curricula evolve to include data sciences and machine learning competencies, high performance computing infrastructure is in demand for interactive student learning and preparation of their entry into the workforce. This pilot will serve as a proof of concept and further define requirements.
Vancouver Scheduling Project
Transform the UBC Vancouver academic course scheduling pattern and model to 1) Improve and streamline business processes, 2) Leverage existing/new scheduling system to better support academic success, 3) Increase optimization of classrooms, technology and staff & faculty resources, 4) Improve access to accurate data to support decision making, and 5) Enhance students, faculty and staff satisfaction. To learn more, please visit the Vancouver Scheduling Project website.
Core Research Facilities Management
UBC has adopted a Core Research Facilities model to stay ahead of technological curve by centralizing, sharing, and maximizing the use of highly specialized technologies, space, and highly qualified personnel. In order to effectively manage the various laboratories, equipment, and personnel, the University will grow its management capability by implementing a software solution to support the business administration and operation of various UBC laboratories.
This page was last updated on Thursday, June 09, 2022