UBC has many substantive IT components underway at any given time. These projects can range from small projects impacting only a group of users to projects that have Faculty wide impacts as well as UBC-wide impacts and which involve many other groups on campus. Below we list the major IT capital projects that are transforming how UBC uses technology to enable teaching and research, and to leverage resources across campus to improve effectiveness. The graph below also reflects the project's status on UBC's major capital IT projects development process.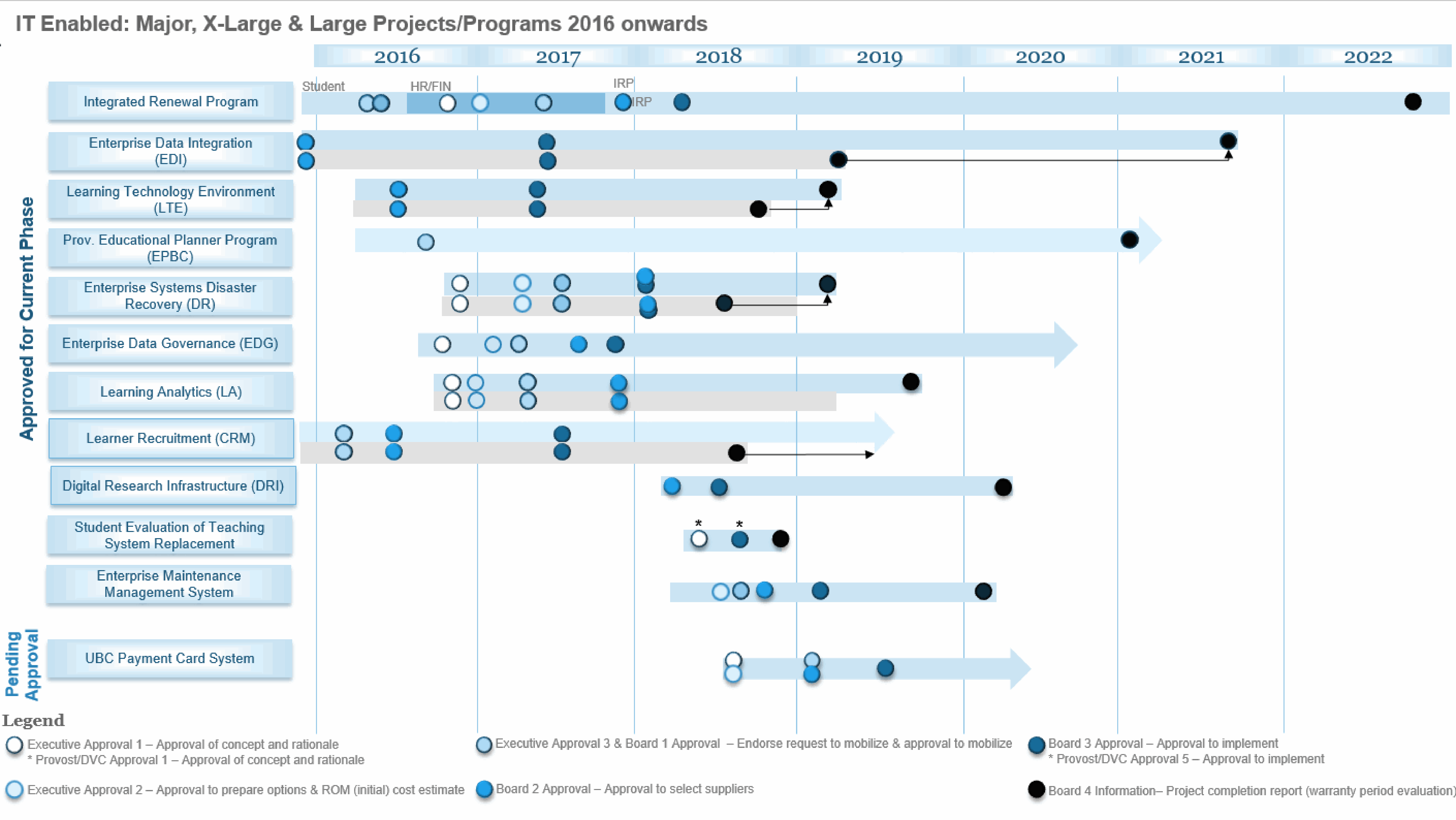 A list of projects can be found below:
HR Finance Renewal Program
UBC is planning a replacement of its core HR and Finance systems. Both systems are currently running on aging software, and are overdue for renewal. Attention to these core systems will enable the university to take advantage of newer technologies which offer enhanced features and functionality to improve users' experience in the areas of financial management and people management, and to be more efficient and effective in delivering on its mission.
The HR Finance Renewal Program follows UBC's Major Capital IT Projects Development Process which requires Executive and Board of Governors approval at each of the four phases (Assess & Initiate, Mobilization, Implementation, Transition & Closure) of the process.
Board approval was received in April 2017 to move forward with Phase 2 – Mobilization. Beginning in May 2017, the priorities are to identify business, technical and functional requirements, validate the program scope, consider possible solution options, and understand organizational and operational impacts.
To learn more, please visit the HR Finance Renewal Program Project page.
Learning Technology Environment Renewal (LTE Renewal)
The LTE Project's vision is to establish an ecosystem that empowers faculty and staff to achieve their teaching and learning goals by providing robust, dynamic and pedagogically sound tools and services that are time-efficient to learn and use. This will be carried out by implementing a multi-phase project that will involve an extensive community consultation process in order to pursue a replacement for the current Learning Management System that sits at the heart of UBC's technology ecosystem for teaching and learning. These consultations will be used to formulate discrete functional, technical and operational requirements, against which vendors can be evaluated with a final decision to be taken in May 2017.
For more information, please visit the LTE Project page.
Customer Relationship Management (CRM)
UBC is seeking to replace the current Customer Relationship Management (CRM - ezRecruit) used by its international and domestic undergraduate recruitment and admission offices with a more robust solution. A competitive vendor CRM solution will enable UBC to take advantage of an established technology while meeting the current and anticipated needs of constituents and staff. Stakeholders for this project include UBC staff who are involved in the student recruitment process and interact with undergraduate prospective students from the prospective, applicant, admitted and registered stages for both the Vancouver and Okanagan campuses.
For more information, please visit the CRM Project page.
Student Academic Systems Initiative (SASI)
The Student Academic Systems Initiative (SASI) is a large-scale, UBC-wide, business-led transformation program to replace the current Student Information System (SIS). The new solution(s) seek to transform the way students, faculty, and staff interact to support student success.
Supporting 65,000 students and 15,000 academic and administration staff across UBC, SASI will encompass all aspects of the student academic journey from prospectus to alumnus and will support activities such as recruiting, curriculum, admissions, registration, progression tracking, and other key areas in support of our students.
The success of the SASI project is dependent on engagement with the UBC community to ensure their needs are reflected in the vision and the design of the new processes and solutions.
Our journey began with our Design and Validation phase in FY16 to determine opportunities for improvement and change in order to meet UBC's current and future needs. This included an assessment of some of our existing technologies and processes, as well as gathering requirements and capturing future state process needs through consultation with the UBC community.
Armed with a more comprehensive understanding of the complexities, needs and desires of the community, we have entered into the Streamline, Procure & Plan phase which has three primary objectives:
Streamline and align business processes and enable application integration
Select the best product(s), vendor(s) and partners to meet UBC's long-term student information system needs
Improve implementation plan accuracy and reduce implementation risk
This current phase, expected to complete in 2017, will cumulate in the selection of the product(s) and vendor(s) who will partner with UBC for the implementation of a new SIS. The new solution(s) will aim to enable students, and the faculty and staff who facilitate their journey, to make more informed and timely decisions about their academic career at UBC.
For more information, please visit the SASI Project page.
Educational Planner BC (EPBC)
Together with other institutions in British Columbia, UBC is working with the Ministry of Advanced Education to further develop EducationPlannerBC as a resource for undergraduate applications and career planning. This project proposes to fully integrate with the existing EducationPlannerBC platform for prospective students to create and submit their applications. Implementation is scheduled for 2017 subject to steering committee approval and funding.
Enterprise Data Integration (EDI)
UBC operates multiple Enterprise Resource Planning (ERP) systems including HRMS, FMS, CRM, SIS and LMS. The Board has approved programs to renew these ERPs over the next 3 years, which necessitates rebuilding thousands of point-to-point, effectively-ungoverned, technologically-dissimilar data integrations between the ERPs and downstream systems. Working with Enterprise Data Governance's University Data Model, the objective of the Enterprise Data Integration project is to reduce technical-debt risk to the programs and data integrity/security risk to the institution by introducing data integration methodologies, tools, and competencies. By establishing an Integration Enablement Centre, the EDI program will provide turn-key and self-service data integration capabilities that leverage sufficiently-complete, self-consistent, effectively-governed, developer-accessible and -comprehensible UBC APIs.