Integrated Renewal Program  |   Application Ecosystem Program (AEP)  |   Enterprise Data Integration (EDI)  |   Learning Analytics (LA)  |   Digital Research Infrastructure (DRI)  |   PriSM
UBC has many substantive IT components underway at any given time. These projects can range from small projects impacting only a group of users to projects that have Faculty wide impacts as well as UBC-wide impacts and which involve many other groups on campus. Below we list the major IT capital projects that are transforming how UBC uses technology to enable teaching and research, and to leverage resources across campus to improve effectiveness. The graph below also reflects the project's status on UBC's major capital IT projects development process. 
Last updated: December 2020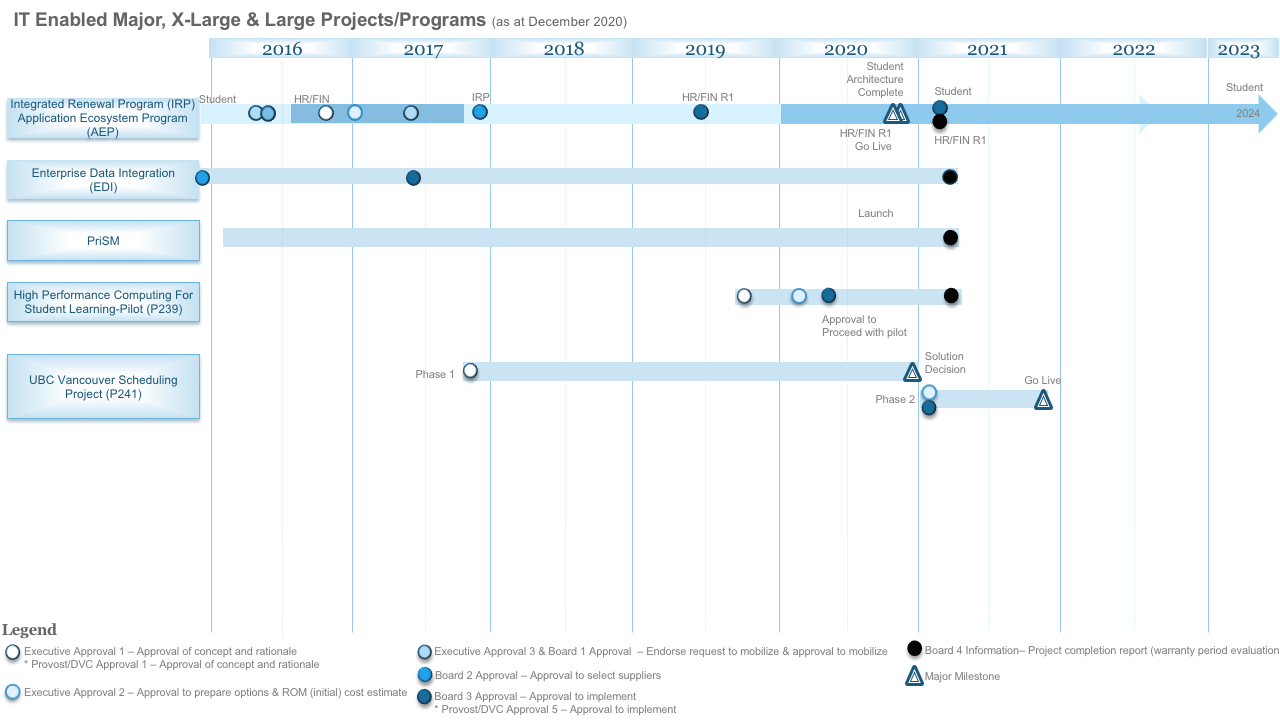 A list of projects can be found below:
Integrated Renewal Program
UBC is embarking on a multi-year journey to transform our Finance, Human Resources and Student administrative processes and system environments, in support of UBC's new Strategic Plan, Shaping UBC's Next Century: Inspiring people, ideas and actions for a better world.
The Integrated Renewal Program is a business process transformation and system implementation program that will leverage the industry-leading cloud enterprise solution Workday to replace our current core administrative systems with a new integrated, user friendly, mobile-enabled platform.
To learn more, please visit the Integrated Renewal Program website.
Enterprise Data Integration (EDI)
UBC operates multiple Enterprise Resource Planning (ERP) systems including HRMS, FMS, CRM, SIS and LMS. The Board has approved programs to renew these ERPs over the next 3 years, which necessitates rebuilding thousands of point-to-point, effectively-ungoverned, technologically-dissimilar data integrations between the ERPs and downstream systems. Working with Enterprise Data Governance's University Data Model, the objective of the Enterprise Data Integration project is to reduce technical-debt risk to the programs and data integrity/security risk to the institution by introducing data integration methodologies, tools, and competencies. By establishing an Integration Enablement Centre, the EDI program will provide turn-key and self-service data integration capabilities that leverage sufficiently-complete, self-consistent, effectively-governed, developer-accessible and -comprehensible UBC APIs.
Digital Research Infrastructure (DRI)
As a leading global research institution, UBC needs to meet the continually developing digital infrastructure requirements of its research community. To address immediate needs surrounding data storage and computing power, and issues surrounding health data access, UBC is making a capital investment in advanced research computing infrastructure. This funding will enable UBC researchers to bridge to enhanced national platforms expected from the implementation of a federal digital research infrastructure strategy (as announced in the 2018 Budget).
For more information visit, please visit the Capital Investment in Advanced Research Computing Infrastructure website.